Disaster and Eviction Podcast Now Available!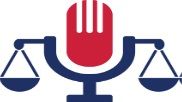 Texas Disaster Legal Help (TDLH) has posted its new podcast "Eviction and Disasters." Topics include the rights of a renter after a disaster and how to defend against wrongfully filed evictions in violation of the CDC order that declared a federal moratorium. Guest Speakers: Belinda Martinez from Lone Star Legal Aid, and Fred Fuchs with Christina Trejo from Texas RioGrande Legal Aid.
Also available on Buzzsprout, Spotify, Apple Podcasts, or Google Podcasts.